---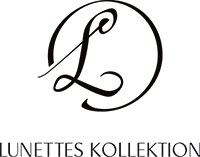 Lunettes Selection
has drawers chock full of
vintage glasses
treasures available to view right here online, as well as in our independent eyewear boutiques in Berlin. The best in vintage unworn eyeglasses and sunglasses are waiting to be discovered. These glasses are paired with carefully selected top contemporary eyewear design lines, including Masunaga, Lunor, and in-house eyeglasses brand Lunettes Kollektion.
What is Lunettes Kollektion?
Lunettes Kollektion is our in-house line of glasses frames, designed right here in Berlin. Our eyewear blends fine materials and modern design with an appreciation of the artisanal, the rare, and the timeless. Our name is now synonymous with the best in European designer glasses for women and men. Lunettes Kollektion bristles with new creative energy while staying grounded in history, just like the city it calls home. Pulling from Lunettes Selection's archive of iconic
vintage eyewear
, the experienced Lunettes Kollektion glasses designers blend fashion-forward impulses with an eye to classic inspirations from the annals of style and cinema.
What do our vintage-inspired designer glasses frames offer?
Each collection of glasses brings forth a memorable set of contemporary eyewear classics, with every model created and named to salute our guiding inspiration and concept: classic shapes filtered through a fresh lens. Glasses from Grand Tour's Aviator-inspired chunky lines to Pauline, a curvy sort of Cat Eye cousin for women, to the Modern Archive range of refined shapes including Round and Oval. Lunettes Kollektion's innovative and modern handmade eyewear styles have been awarded numerous international design prizes, and have been featured in top publications and fashion shoots. Each pair of Lunettes Kollektion designer glasses is ideal for use as optical frames, non-prescription eyewear accessories, and as sunglasses. While select shapes are better to sized for men or women, this designer glasses range is primarily unisex in style. We are happy to create the perfect pair of lenses for you; just send us your prescription. If you are in Berlin, please stop by for an eye test from one of our opticians. We offer you full optical services for glasses and sunglasses; we leave the contact lenses to other experts.
Why is our retro eyewear so special?
Our brand of stylish designer glasses unites
vintage inspiration
with modern sensibility. Included are contemporary updates to classic mens and womens eyewear shapes and styles, including:
The glasses and sunglasses are available to view in a host of shades. Feel free to browse online and select your favorite pair: from tortoiseshell to transparent crystal to basic black. We also offer lens variety at various reasonable price points:
tinted
mirrored
prescription
fashion lenses
Our customers and wearers include global creatives from the worlds of fashion, art, film, and business who value free expression of ideas and traditional quality and craftsmanship. It's this combination of factors that makes us popular and admired by eyewear fans, opticians, and stylists everywhere. Why not try on some of your top picks? We offer an eyewear sampling service so you can view your selection of glasses and sunglasses in the comfort of your own home. Choose freely from our assortment of eyewear, and select up to six pairs. Sample service shipping is free within Germany. Simply make your selection, then send the remaining eyewear back to us.
Who do we work with when creating our eyewear?
Lunettes Kollektion also collaborates with rising men- and women's wear designers to make fashion eyewear with innovative frames and lenses. We've created stunning glasses and sunglasses capsule collections with:
Christopher Shannon
Michael van der Ham
ODEEH
Julian Zigerli
John Lawrence Sullivan
Capara
They have premiered on and off the runway at Fashion Weeks in London, Paris, Berlin, and Tokyo, and can be found at Lunettes Selection in-store and online, and at select boutiques globally. These
designer glasses
projects have grabbed the eye of top publications like
Architectural Digest
Vogue
GQ
Monocle
And there's more to Lunettes Kollektion glasses and sunglasses than meets the eye. All of our eyewear is made from the highest quality Cellulose Acetate, which provides the frames with a rich range of colors, an easy-to-wear lightness, and a reliable flexibility. All glasses are produced in Europe by traditional methods, and assembled by hand at family-run factories. Each pair of sunglasses is fitted with lenses manufactured by Carl Zeiss Vision. Our production partners' expertise helps us ensure a seamless melding of old-fashioned quality and modern design, which exemplifies the philosophy and values of Lunettes Kollektion. At the same time we are able to support small businesses and, with a view to the environment, minimize the brand's carbon footprint. Our quality is reflected in our price, as our glasses and sunglasses offer a premium alternative to the wares at high street brand and fast-fashion eyewear stores. These vintage-inspired pieces offer ideal alternatives to the banal optical frames at low-price eyewear chains, while avoiding flea market nostalgia — divine, rather than dusty could be our motto. Purchase
designer eyeglasses
online with comfort and ease, secure in the knowledge that we guarantee your satisfaction.
Where can you find our glasses and sunglasses?
Lunettes Kollektion was born in Berlin
, and has its roots in the city's sought-after Lunettes Selection glasses shops, but is always making connections. Our eyewear can be found at the world's best select shopping addresses, from New York's Soho to Tokyo's Shibuya to Barcelona's El Passeig de Gràcia, and of course on view here on our website.
---